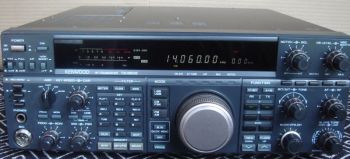 Kenwood TS-850 transceiver.
HF transceiver
My HF transceiver is a Kenwood TS-850S multimode transceiver. Receiving range is 100 kHz - 30 MHz. Transmit ranges are the ham bands from 1.8 MHz to 30 MHz. The transceiver is powered by a Kenwood PS-52 PSU.

This transceiver offers a multitude of features like all-band all-mode operation, digital read-out, dual VFOs, RIT/XIT, split mode, full break-in on CW, notch filter, AGC off/fast/mid/slow, noise blanker, tone control, DSP filter, speech processor, monitoring of transmit signal on SSB/FSK, VOX, and all-mode squelch. Computer aided tuning is also available. Certainly, you can do without these features, but they are worthwhile additions and will increase your operating pleasure.

The TS-850S has an accurate output meter. The RF level can easily be reduced to 5 W QRP.